bateeq Showcases Latest Collection at Fashion Nation XIII
From 16th-21st March 2019, renowned local fashion brand bateeq participated in the Fashion Nation XIII fashion event which was held at the Senayan City shopping centre in Jakarta. bateeq showcased its latest men's and women's Fall/Winter 2019/2020 collection of ready-to-wear shirts and dresses. This year's collection is named 'Arung', which translates as 'to sail through, or to cross', paying homage to Indonesia's maritime heritage.
The collection featured three motifs: Gatharish, Sindhu, and Swarnadipa, ancient Javanese names. Gatharish is derived from the word 'Gata' and 'Harish' meaning 'to leave' and symbolizes leaving one's old life behind for a better one.  Furthermore, Gatharish utilizes the Kawung Picis, and Mega Mendung batik motifs. Kawung Picis symbolizes the hope that people will remember their heritage and that one must be able to maintain balance in life whereas the Mega Mendung motif represents the ability to control one's emotions in order to achieve inner peace.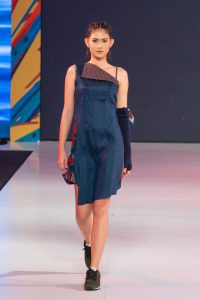 The Sindhu motif is inspired from its meaning of 'being born from the river' and thus the design depicts abstracts of trees, rivers, and rocks and aims to remind us to cherish nature as it is the centre of our prosperity. The design also incorporates three distinct batik motifs; Kawung, Parang, and Banji. The Kawung (different from Kawung Picis) symbolizes power and strength, Parang symbolizes continuity, and Banji represents good fortune and happiness.
The Swarnadipa motif — the Sanskrit for Sumatra island — is inspired by the traders from the Bay of Bengal reaching Sumatra seeking not only trade but also knowledge. The motif symbolizes discovering challenges and overcoming obstacles.
As part of the theme surrounding maritime travel, the Arung collection features an array of maritime blue, Port Royale Maroon, and night greens. The collection also features sailor-inspired collars that give an overall look of a sling and rig often found on a ship. As a signature of bateeq's style, the brand uses sustainable materials Bemberg and Tencel for its clothing range which are biodegradable alternatives to regular cotton.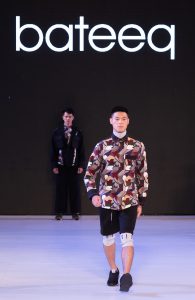 Moreover, for this specific campaign, bateeq has collaborated with local home industries in the region of Klaten in Central Java province in Indonesia. These home industries still utilize traditional looms and thus resulting in each clothing having its own unique characteristics.