bateeq Spring/Summer 2020 Collection Ready-to-Wear
bateeq returns to Jakarta Fashion Week (JFW) to present the upcoming Spring/Summer 2020 Collection: 'Sejari'.
This season is inspired by the Betawi tribe, which resulted from a mixing of ethnicities. The Betawi are a combination of the many people who, at one point in history, moved to the city of Jakarta – such as the Ambonese (Ambon), Chinese (Tionghoa), Javanese (Central and East Java), Melayu (Borneo, Malaysia, Sumatra), Samawa (Sumbawa), and Sundanese (West Java). In the process, this multitude of cultures were accepted and gradually merged into one, giving birth to a new ethnic group that still maintains their original characteristics and elements. In Bahasa Indonesia, 'sejari' means 'unity amidst diversity'.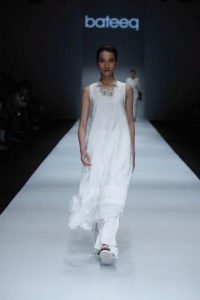 Three motifs were created: Aluwung, Abimantrana and Kawung Rante. Aluwung, which is Sanskrit for 'better', incorporates batik kawung to represent perfection and purity. At first glance, the motif looks like a random scattering, but when viewed from a distance, one can see a magnified kawung shape with gradation effects. Abimantrana, which is Sanskrit for 'blessing', uses the half-circle shape from the heads of Indonesian ondel-ondel – large puppet figures traditional featured in Betawi folk performance. It also includes batik grinsing to resemble fish scales. Kawung Rante is derived from two words: 'kawung' of batik kawung, and 'rante', which is Javanese for 'chain'. The pattern groups together different-sized kawung to imitate the metaphorical chains that hold us together. This arrangement emphasizes the idea that singular components can create a single harmonious pattern.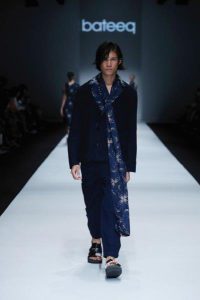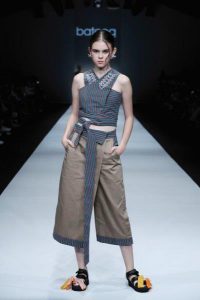 The color palette takes a festive and more vibrant turn this season, with shades such as blue heaven, blue nights, cadmium yellow, exuberance orange, golden rod and lily white. The Aluwung motif alone is created in four colorways: exuberance orange, golden rod, navy, and off-white.
Environmentally-friendly and sustainable practices are demonstrated through the fabric choice, which includes the continuous use of biodegradable semi-synthetic fibers Bemberg and Tencel. Two types of Tenun Lurik – a striped traditional cloth originating from Java – were also developed for the Sejari campaign, one of which was made out of recycled cotton from our production factory's waste. For the second consecutive season, bateeq has collaborated with a local home industry in Klaten that employs the elderly to weave the Tenun Lurik using non-machine looms. Other fabrics include jacquard, cotton twill, and cotton-polyester.
Several pieces have built on the Indonesian kebaya, common in Betawi culture, to give it a more modern approach. From the cuts, sewing details, and silhouettes, combined techniques and layering can be seen across the collection. Accessories worth mentioning are the 'tusuk konde' – a decorative hair pin – for women and the roll-up cap for men. Overall, the clothes are designed to offer the wearer a scope of versatility.
As of today, bateeq boasts 85 locations all over Indonesia. For additional information, please visit our website at www.bateeq.com.